What do I get, and how fast?
You send us music…
⇩
We create sheet music!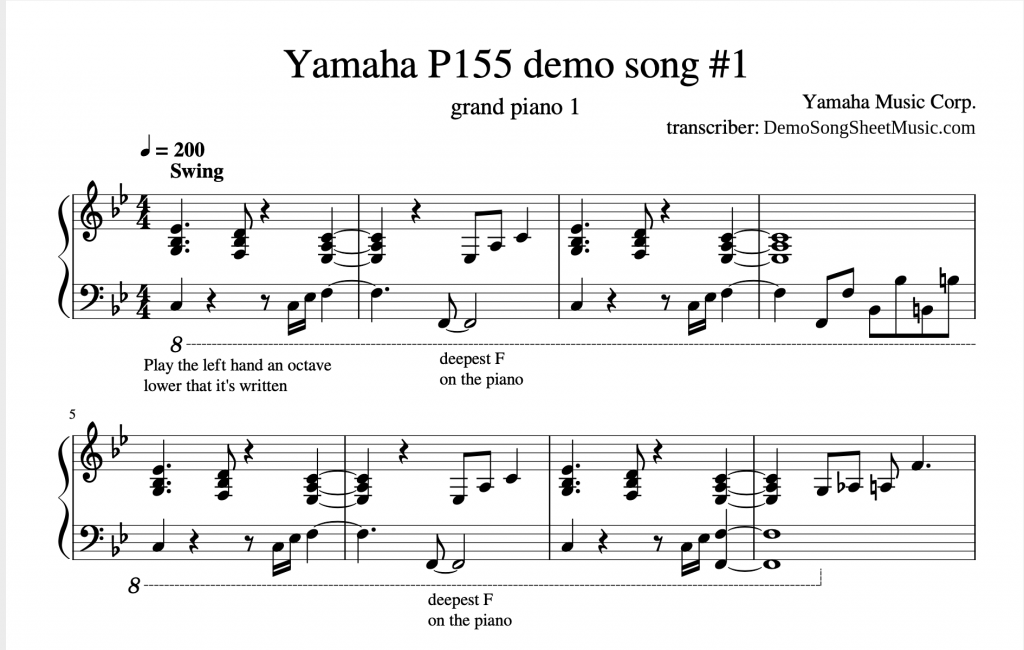 But how much does it cost?
We offer reasonable, fair and competitive prices. You could get Your transcription for as little as $10*! Read more information on our pricing page (link).
Want a real-world example?
Check out our transcription example page (coming soon 🏗️).
* one minute of simple piano or a single-line melody can cost You as little as $10! More complex music requires more time, so check out the pricing page for more details.
What our customers have to say
I got in touch with DemoSongSheetMusic to get the Yamaha P-155 demo song transcribed.  The music is rather fast and complex in places so I didn't think I would get a like for like music notation, however the transcription was identical to the demo! This had exceeded my expectations, they had also given me some pointers with some of the tricky parts in the music. This is great value for money, a fantastic service delivered by people who are truly passionate about music. If you need anything transcribing DemoSongSheetMusic is the only place to go to get quality service at a low price. 
I got exactly what I wanted – and it was sooner than expected! They did everything I asked for, and the communication was excellent.
I'm looking forward to ordering more transcriptions! 🙂 They even offer discounts for longer pieces or multiple orders – wonderful!
Thanks to the DemoSongSheetMusic.com team, I got my long-desired Yamaha demo song sheet music! The piece I ordered for transcription was quite complex. Still, they did a marvellous job!
Thank you for this great website and all your effort! I finally found the demo song sheet music I wanted for so long. Best of luck with future transcriptions! 🙂
Have an opinion to share?
Request Sheet music – contact us!